If you are a teacher and wondering where to keep a record of all the students' assessments, need not to worry because the digital era has something for everyone.
For easing the record management of teachers, various online templates in Excel Spreadsheets are available for record keeping.
Printable Gradebook templates
Printable Gradebook templates allow you to print the record of students' assessments in hard form. There are several online templates with various fields and features available.
Working
Working with gradebooks is easy, as you need to enter the data of your choice. Some of the templates allow you to the online store the Gradebook, while some allow you to download the editable version and print hard form. Some of the important fields mentioned in every template are:
Grade Name
Student Roll number/Serial
Marks
Remarks
There is primarily one large student table in which various options are available from which you can select the desired ones. Marks can be entered in numeric and formulas can be used to calculate he net total and average marks of student's.
Editing
Editing can be done is Grade book as required. You can enter Logos, signatures and any field of choice according to your own requirements.
Record entering
The record can be entered row wise, initially a column is made for mars, but many sub heading can be added in case of additional assessments and criteria's.
Limit
The Gradebook available for online usage has fixed fields, for example, a template that allows you to store data of only 30 students at a time. On the other hand, in the editable versions you can add as many fields as you like.
These gradebooks can be part of the professional student record at school management system, as it aids in durability and is accessible for teacher.
Download & Preview Details: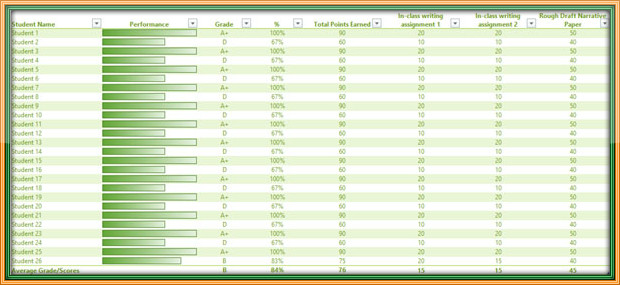 File Type: OpenOffice Calculation (.ods) (calc)
Pages: 3 Page(s)   |   Size: 19 Kb
---
File Type: MS Excel (.xls) 2007 + and iPad
Pages: 3 Page(s)   |   Size: 32 Kb
---